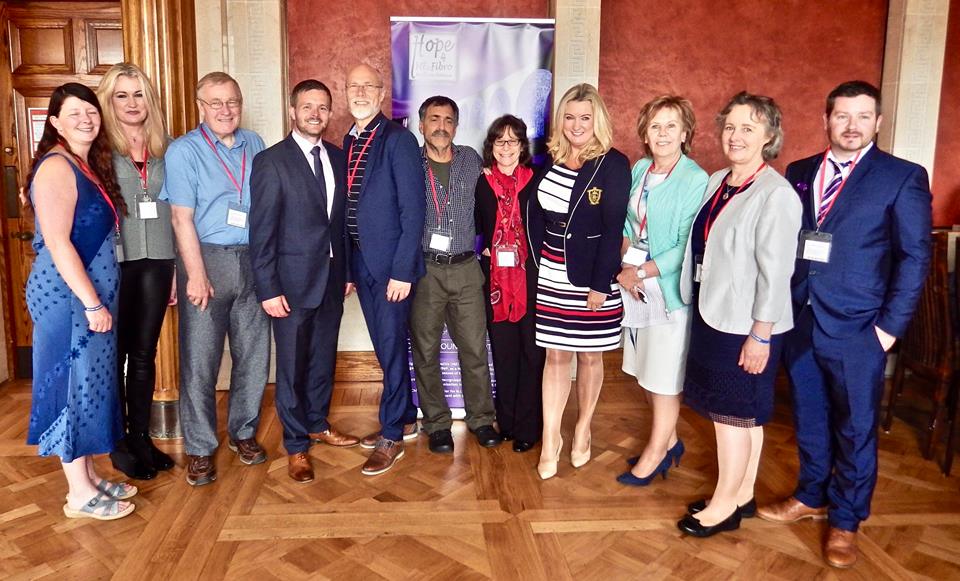 On Tuesday May 30th, my 7th day into the European Tour of Hope, I visited Belfast in Northern Ireland. Andy Hugh made it very easy for me and took me by the hand every step of the way from Newry to Belfast. Thank you Andy for taking care of me in such a warm way during this trip!
Andy and I arrived at a hotel in Belfast early to meet with Dr. Olav Mella (a new member of the OMF Scientific Advisory Board), Dr. William Weir and Professor David Tuller. After a brief visit, we went to the Parliament Building, Stormont, where the meeting took place.
(While in the hotel meeting they were evacuated for "an incident" and stood in the rain a bit before being let back inside. Needless to say, my hair didn't look as happy anymore.)
Nearly 60 delegates attended, including healthcare professionals, healthcare commissioners, decision makers, a small number of patient volunteers who helped with the organizational aspects of the talks – as well as my husband Don. We were delighted a representative from the Health Care Executive in Dublin, travelled up to Northern Ireland for this event. The event was accredited by the Royal College of Physicians in London. Due to prior efforts of several local advocates and government officials, the Northern Ireland government has already designated funds to bring on a half-time physician specifically for ME / CFS!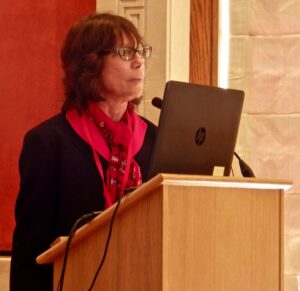 I opened the meeting with a presentation entitled, "Research Hope for ME & Fibromyalgia." Following that, Dr. William Weir, a Consultant Physician in the UK, talked about "Me & Fibromyalgia: History, politics, and the need for change." Dr. Weir has a longstanding interest in ME / CFS and is Medical Advisor to Hope 4 M.E. & Fibro. Although formerly retired, Dr. Weir regularly sees ME / CFS patients privately, and advises on disease management and treatment.
The next speaker was Professor Olav Mella. Dr. Mella is director of the Department of Oncology at Haukland University Hospital in Bergen, Norway. He spoke on "Rituximab, treatment for the future?" Together with his colleague Dr. Øystein Fluge, a researcher and oncologist from the same hospital and another recent addition to our SAB, Dr. Mella is conducting a phase III Rituximab trial in ME / CFS patients.
David Tuller, PhD (USA) then spoke about "The UK PACE Trial: An exploration of the "evidence" for graded exercise therapy for ME / CFS." David Tuller works as an academic coordinator at UC Berkeley (public health and journalism) and frequently writes for the New York Times. In 2016 he was recipient of both the IACFS/ME Special Service Award for Outstanding Personal Effort and Contribution, and the Tymes Trust Award for Scientific Journalism.
Dr. Christine McMaster, consultant in the Public Health Agency of Northern Ireland, closed the meeting with her presentation, "ME & Fibromyalgia Care in Northern Ireland – Recent Developments." Dr. McMaster is currently supporting efforts to improve health services for ME / CFS patients throughout Northern Ireland.
The meeting was then followed by a long questions and answer session. The audience was very receptive and thankful. Hope 4 ME & Fibro offered all attendees a very nice reception after the talks so that everyone could chat. Thank you again Joan, Andy, and so many others for making my stay in Northern Ireland unforgettable. Welcome to Team OMF!